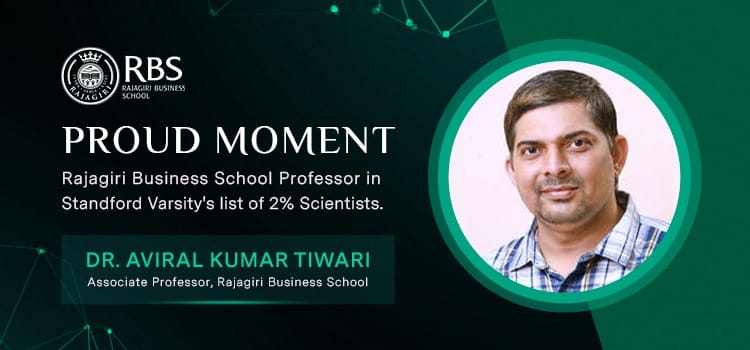 Dr. Aviral Kumar Tiwari, Associate Professor of Economics at the Rajagiri Business School Kochi Kerala, has been featured among the top 2 per cent of scientists in the world in the career-long list prepared by Stanford University and Elsevier BV, a Netherlands-based publishing company.
Dr Tiwari has also figured in the single year list, for the second consecutive time and in the field of Economics he remained in the top position among only other two included in the database. Dr Tiwari has featured in two lists prepared by Stanford Elsevier based on the career-long data (which has considered publication and citation from 1960 to 2020) and single-year impact (2020).
In career-long impact from India, he is the only one who is included in the list in the Economics field whereas he is ranked 296 in all areas. At the Global level, he is ranked at 504 in the field of Economics and 1629 in the field of Business and Economics and 61212 across fields.
In single-year impact, he is ranked 77 among 1,221 Economists in the world and 1st in India in the field of Economics and in the field of Economics and Business field he is ranked 262 in the world among 5506 Researchers and in India he is ranked 2nd among 37 included researchers in the list. According to the Stanford Elsevier report published last week, the rank is based on the top 190063 for the single year impact 186177 for the career-long list by C-scores (number of citations, excluding self-citations) or a percentile rank of 2% or above.